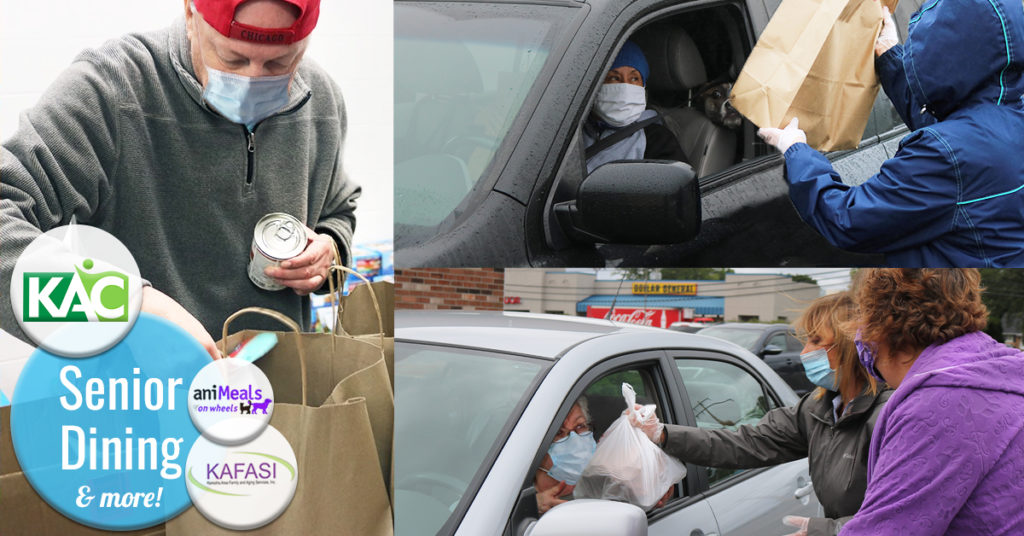 One-stop-pickup at KAC: Senior Dining & Animeals on Wheels
Curbside pickup at Kenosha Achievement Center is expanding. Now, our team has a well-prepared meal for you, and your pet, waiting! In continued partnership with our friends at Kenosha Area Family and Aging Services (KAFASI), we cook and serve homestyle meals via Senior Dining Curbside Pickup as well as pack AniMeals on Wheels.
Senior Dining
Senior Dining Curbside Pickup is open to anyone 60 years and older and a spouse regardless of age. We ensure the highest food quality possible with fresh ingredients, homestyle recipes and satisfying variety. Dine with us and you'll enjoy a home-cooked meal with the convenience of takeout.
AniMeals on Wheels
AniMeals on Wheels helps provide individuals with the supplies they need to care for their furry friends in times of need. Our team sorts, fills and prepares AniMeals on Wheels packages so that they can be ready for pickup.
We're doggone excited to continue providing these services to our community! For more information or to make your meal reservation, please contact Janice Bulanda at (262) 658-3508 or jbulanda@kafasi.org.
Check out the Senior Dining and AniMeals Schedule Below:
Now, Senior Dining Meals and AniMeals can be picked up together from KAC. For Senior Dining, reservations must be made by 10 a.m. Wednesday for Thursday lunch pickup (11:30 a.m. – 1 p.m.). AniMeals can be picked up monthly at this same time but only on select dates.
To view the January Senior Dining menu, please click here.
To view the February Senior Dining menu, please click here.
To view the March Senior Dining menu, please click here.
To view the April Senior Dining menu, please click here.
To view the May Senior Dining menu, please click here.
Upcoming AniMeals Pickups: January 21, February 18 and March 18.
Senior Dining menus and AniMeals Pickup dates will be continuously updated. Keep checking back right here on KAC's blog for any changes.
Catch a Ride with Care-A-Van
KAC's Transportation Services team is dedicated to helping elders and individuals with disabilities travel safely to wherever they may need to go within our community, such as to and from KAC for Senior Dining and AniMeals on Wheels Pickup. To learn more about how you or a loved one can catch a ride, click here.