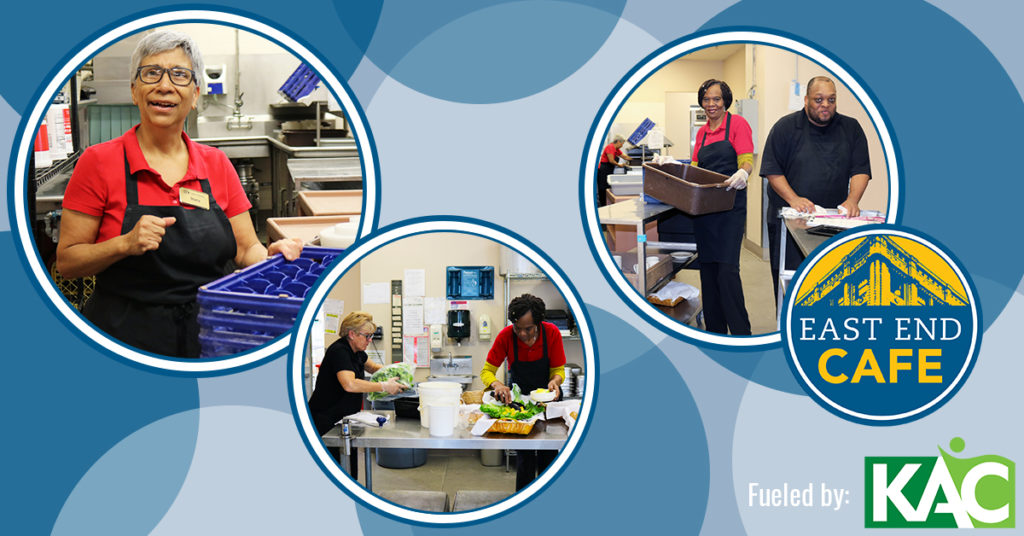 Dine with KAC at East End Cafe
Tucked away on the seventh floor above Milwaukee's Grand Avenue Mall sits the East End Cafe. Here, KAC staff manage all food service operations. It's no easy feat, but our team has what it takes. Here's a closer look at everything being accomplished inside.
The East End Cafe is housed within the UWM School of Continuing Education, so the day's workload largely depends on which classes are currently in session. In this fast-paced environment, KAC employees work together closely to get the job done.
To start, each classroom must be stocked with breakfast refreshments. In the afternoon, these snack bars are replenished with more light food and drinks. Meanwhile, the cafe opens to the public for lunch, and the banquet hall, which typically holds reservations four days a week, is prepped to serve up to 200 people. In between tasks, staff wash dishes, wipe down tables and give a hand in the kitchen. No matter the day, it's guaranteed our team is hustling and bustling with a lot of work to do.
Employment at the East End Cafe provides valuable hands-on work experience, opportunities for skill development and a wide network of resources. Many employees have taken on new responsibilities since first starting. For example, Christin joined the team as a dishwasher more than 10 years ago. Today, she is the lead cashier and helps make sure the salad bar remains well-stocked. Similarly, Michael originally joined as janitorial staff. Now, he plays a vital role in providing food services to each classroom. All of us at KAC are proud of this team's hard work and all that we can achieve when we work together.
Are you hungry? Stop in to check out East End Cafe's daily specials, fresh soup and salad bar, grilled sandwiches and more – all sold at an unbeatable price. Just be sure to bring along an appetite! Cafe hours are Monday-Friday 11:00am to 2:00pm.
Have you paid a visit to KAC's team at the East End Cafe? Let us know what you think on Facebook!
Other experiences KAC provides involving food service include employment at the Racine Youthful Offenders Correctional Facility and packaging Kenosha Area "Meals on Wheels" in the KAC kitchen. Stay tuned for more inside looks at the work we complete in our community.